Guest Book for Friends & Well Wishers
Guestbook for Friends / Supporters of Sean McQuade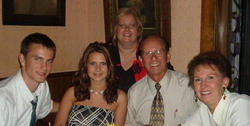 The McQuade & Forsman Families Thank You



To view those that have signed already, click below to view all entries in the Guestbook. http://seanmcquade.faithweb.com/fsguestbook.html
---
---
Cards & Letters
Sean Doesn't want to miss a single card or letter so please address any cards or letters as follows:
The McQuade Family
16 Chestnut Hill Court
Swedesboro, NJ 08085
---
There have been several funds set up to help Sean McQuade and the families during the healing process and recovery. The two primary funds which were set as donation accounts and managed by the respective banks are listed below.
One account was set up by Michael Camp and is a nonprofit fund through St. Edmonds Federal Bank called the "Sean McQuade Alumni Fund". This fund is for use toward medical, rehabilitation, or any needs Sean McQuade may require. Donations for this fund can be written out to the "Sean McQuade Alumni Fund" and mailed to:
Sean McQuade Alumni Scholarship
c/o St Edmonds Federal Savings Bank
1893 Hurffville Road
Sewell, NJ 08080-9900

We have also set up an online link for those who wish to donate electronically.
(Click above to make an electronic donation through Paypal)
Another fund has been set up by the Mullica Hill Merchants Association for well wishers who would like to give donations for the needs of Sean McQuade and his family while they are by his side in Virginia and away from work and their homes. This is a nonprofit fund and will be utilized for medical expenses as well as any immediate needs of the families. Donations can be mailed to:
Friends of Sean McQuade
c/o Susquehanna Patriot Bank
P.O. Box 69
Mullica Hill, NJ 08062

You can drop off donations to either of the two banks above.
All funds will be deposited immediately and all cards and notes will be kept and held for Sean and his family.
If there are other funds set up by well wishers and you would like to get direction on how to best utilize those dollars for the families, we would recommend depositing into one of the funds above. If you would like to discuss a specific desire on how you want the funds applied, please contact Kurt Forsman at 860-399-5669.
We would like to give our sincere thanks to everyone who has given their time and money to help Sean. The outpouring of prayers and generosity has been amazing and we again thank you.